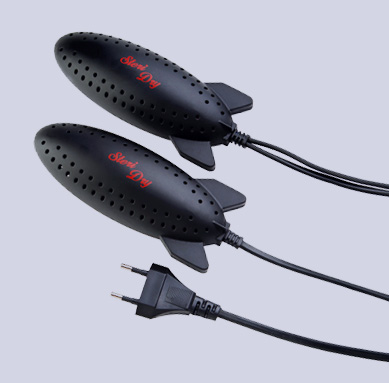 Unpack Stery Dry with attached power cables.
Plug into any standard 220Volt outlet.
Insert one dryer into each footwear.
Do not force Steri Dry into smaller footwear.
Drying time will vary, depending on extend of moisture and room temperature.
After usage please unplug Steri Dry and store in a cool and dry place.

This appliance can be used by children aged from 8 years and above and persons with reduced physical, sensory or mental capabilities or lack of experience and knowledge if they have been given supervision or instruction concerning use of the appliance in a safe way and understand the hazards involved. Children shall not play with the appliance. Cleaning and user maintenance shall not be made by children without supervision.

Now there is Steri Dry, the handy shoe dryer which also disinfects at the same time,
at an introductory price of only €29.99 incl. VAT, plus delivery.