dries and warms shoes or gloves
disinfects with ultraviolet light
reduces the chances of transmitting illnesses
You can smell and feel the difference!
ideal for ski shoes, snowboard boots, Wellington boots, hunting boots, football boots, running shoes, travelling shoes, work shoes, children's shoes, etc.
ideal for ski gloves, mittens, riding gloves, golf gloves, work gloves, etc.
Order Steri Dry!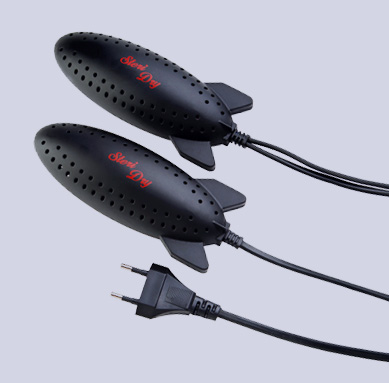 Now there is Steri Dry, the handy shoe dryer which also disinfects at the same time, at an introductory price of only €29.99 incl. VAT, plus delivery.

If your shoes or gloves have got wet in the rain, you will love Steri Dry, and you'll love the fact that you can now dry your shoes and gloves incredibly easily. Please don't wait until your wet shoes, sneakers or gloves are air-dried. At last there's a dryer for drying and warming shoes simultaneously. Steri Dry warms, dries and sterilises your shoes quickly and safely.
Now it's also finally time to do something about your shoe hygiene: Steri Dry dries and warms your damp or wet shoes, and at the same time, the built-in UV light sterilises, clearly reducing the spread and transmission of illness. The UV light kills, in particular, fungi, bacteria, and nearly all germs. This technology has already been successfully used for many years in the food packaging industry (see hygiene), and to disinfect drinking water. So this modern technology is just the thing for your feet and your general health!
Bad shoe odours completely disappear all by themselves because the UV treatment kills the small bacteria and fungi which are responsible for odour development. You'll notice the difference. Take one of your stinking pair of shoes and use Steri Dry in one of the shoes overnight. The next morning, test the smells! The untreated shoe still smells bad, whilst the other will have no smell at all.
The shoe dryer, as well as the ultraviolet light, are completely safe for the shoe material and are not harmful.
Steri Dry, the triple-function shoe dryer:
| | |
| --- | --- |
| | It dries and warms your shoes. |
| | It disinfects your shoes at the same time via the built-in ultraviolet light. |
| | Tiny bacteria and fungi are killed by the UV phototherapy, and bad smells disappear automatically after just a single application. |
Now there is
Steri Dry
, the handy shoe dryer which also disinfects at the same time, at an
introductory price of only €29.99
incl. VAT, plus delivery.
Order Steri Dry!
Shipping methods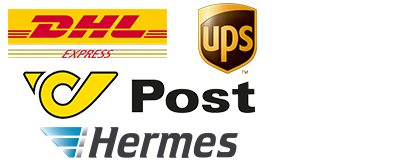 Payment methods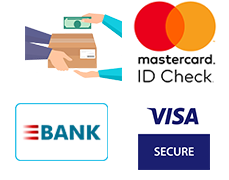 Advantages
best price guarantee
Purchase directly from the manufacturer
Mail order company since 2007
2 years warranty
Free shipping from € 165,00
Positive customer reviews
Fast service in case of customer enquiries
Tested quality
Certified Security
High data protection